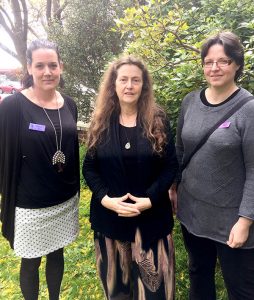 Meet our Staff/Ohu Mahi
Te Hā o Hine-ahu-one Palmerston North Women's Health Collective employs experienced community health workers to assist you to find the information you need and to access the resources you require. They are also available for support and referral assistance:
Jean Hera (Manager)
Morgan Booker                     (assisted by relieving staff)
Our Practitioners
Counselling
Counsellors offer a safe and confidential space to explore issues. Fees are negotiated on a case by case basis. Subsidised counselling is available depending on need and in some cases may be free.
Robyn Scott is a registered social worker (SWRB reg number 1929), MANZASW and counsellor with a Certificate in Counselling (1995) from Massey University and a Diploma in Counselling (2000) from UCOL. She has 23 years experience in working in women's and adult health in hospital and community settings.
Robyn is client centred, uses narrative and strengths based theory and is skilled in psychosocial assessments and crisis intervention.
Robyn is available to see women (and children) at the Collective on Thursday afternoons and Friday mornings.
Cervical Screening
Lisa Scotland is a certified nurse smear taker who holds a clinic mostly on Wednesdays. Please contact us for an appointment. The cervical screening service is free to Māori, Pasifika and Asian women and women over the age of 30 who have never had a smear or it is 5 years since their last smear. All women are welcome. There may be other ways you can qualify for a free smear (e.g. on a very low income) so please phone or drop in to ask.
Naturopathy/Herbalist (Massage and Reflexology)
Fran Jennings, who has a Diploma in Naturopathy and a Certificate in Herbal Studies offers naturopathic consultations, massage and reflexology. Fran uses herbal remedies, homeobotanicals and cell salts and offers advice on nutrition, diet and exercise. Available Tuesdays between 10am – 5pm.
Osteopathy
Gina Morris is a New Zealand trained, registered Osteopath with over 20 years experience. She prefers to use gentle therapies and also does cranio-sacral therapy. Gina offers osteopathic consultations to women and children on Thursdays between 8.30am – 5.00pm.
We may also be able to assist access to other lower cost natural health practitioners based elsewhere in the community.