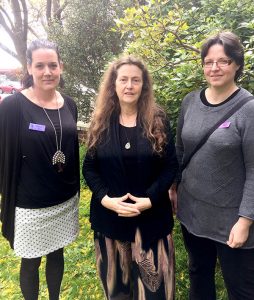 Meet our Staff/Ohu Mahi
Te Hā o Hine-ahu-one Palmerston North Women's Health Collective employs experienced community health workers to assist you to find the information you need and to access the resources you require. They are also available for support and referral assistance:
Jean Hera (Manager)
Morgan Booker
Bec Hancock
Our Practitioners
Counselling
Counsellors offer a safe and confidential space to explore issues. Fees are negotiated on a case by case basis. Subsidised counselling is available depending on need and in some cases may be free.
Bernice Tyree is an experienced counsellor with over 15 years experience in counselling and social work. Her qualifications are a BSW and a Post Graduate Diploma in Counselling. She is a registered counsellor with the New Zealand Counselling Association (NZAC) and is formally trained in a variety of counselling approaches. Bernice encourages people not to be alone with what troubles them. She strives to offer a safe space to meet people and talk through their issues. Her mission statement is always listen first, engage and attend to her clients. Her sessions aim to empower through collaboration. Bernice is able to assist people who have experienced a wide range of emotional difficulties including trauma, grief, depression, PTSD, anxiety, panic, woman's wellness and personal issues, anger, family violence, employment issues, career change, relationship stress, separation, disability, diversity and issues affecting LGBTT community, immigration and other life transition difficulties.  Bernice relates well to people across a range of cultures, ages, beliefs and is committed to promoting safer communities for our family/whānau to live and flourish.  She enjoys connecting with her clients and invites them to talk freely as a way of understanding and making sense of challenging situations. Bernice is available to see women (and children) at the Collective on Tuesdays and Thursdays.
Cervical Screening
Lynley Walker is a certified nurse smear taker who holds a clinic mostly on Wednesdays. Please contact us for an appointment. The cervical screening service is free to Māori, Pasifika and Asian women and women over the age of 30 who have never had a smear or it is 5 years since their last smear. All women are welcome. There may be other ways you can qualify for a free smear so please phone or drop in to ask.
Naturopathy/Herbalist (Massage and Reflexology)
Fran Jennings, who has a Diploma in Naturopathy and a Certificate in Herbal Studies offers naturopathic consultations, massage and reflexology. Fran uses herbal remedies, homeobotanicals and cell salts and offers advice on nutrition, diet and exercise. Available Tuesdays between 10am – 5pm.
Osteopathy
Gina Morris is a New Zealand trained, registered Osteopath with over 20 years experience. She prefers to use gentle therapies and also does cranio-sacral therapy. Gina offers osteopathic consultations to women and children on Thursdays between 8.30am – 5.00pm.
We may also be able to assist access to other lower cost natural health practitioners based elsewhere in the community.